Sunday February 28, 2021
Finances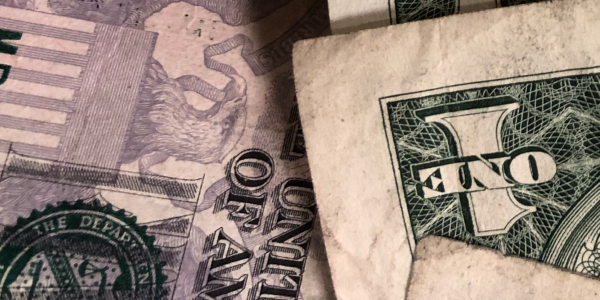 Hewlett Packard Enterprise Reports Earnings
Hewlett Packard Enterprise Co. (HPE) released its quarterly earnings report on Tuesday, March 3. The information technology products and services provider missed revenue expectations for the quarter.

Hewlett Packard Enterprise reported quarterly revenue of $6.9 billion. This is down 8% from last year's first quarter revenue of $7.5 billion and below the $7.2 billion that Wall Street predicted.

"We delivered EPS and gross margin improvement, while making important investments for future innovation," said Hewlett Packard Enterprise President and CEO Antonio Neri. "Faced with continued macro uncertainty, I am confident we are managing our business with discipline and focus, taking the right actions, and advancing our pivot to deliver unique edge-to-cloud experiences as a service. We believe the combination will drive long-term profitable growth and strong returns on investment."

The company announced net earnings of $333 million for the quarter, which was down from net earnings of $480 million one year ago. The company reported an adjusted earnings of $0.26 per share.

Revenue for Hewlett Packard Enterprise Intelligent Edge segment was up 4% to $720 million in the quarter. The High Performance Compute and Mission Critical Systems segment's revenue increased 6% year-over-year. The company's Storage segment was down 7% from last year.

Hewlett Packard Enterprise Co. (HPE) shares ended the week at $11.99, down 6.3% for the week.


Target's Earnings Miss the Mark

Target Corporation (TGT) released its latest earnings report on Tuesday, March 3. The Minneapolis-based retailer missed revenue estimates, causing shares to drop 3% after the report's release.

Target reported revenue of $23.4 billion for the fourth quarter. This was up 1.8% from $23.0 billion during the same quarter last year. This missed Wall Street's expectation of $23.5 billion in revenue.

"With eleven consecutive quarters of positive comparable sales growth, driven by healthy performance in both our stores and digital channels, Target's results demonstrate that we've built a sustainable business model that drives strong topline growth and consistent bottom line performance," said Target CEO and Chairman Brian Cornell. "The strategic investments we've made over the past several years to elevate the shopping experience, curate our multi-category assortment at scale, and deliver ease and convenience through our fulfillment capabilities are deepening our relationship with our guest."

Target posted net earnings of $834 million, or $1.69 per share for the quarter, beating analysts' earnings expectation of $1.65 per share. This was up 4.4% from $799 million, or $1.54 per share at this time last year.

Target's comparable digital sales increased 20% in the quarter. Same-day services accounted for more than 80% of the company's comparable digital sales growth. Same-day services include same-day order pick-up, drive-up and same-day package delivery through Shipt. The company has seen comparable sales for stores open at least one-year increase 1.5%, which is in line with expectations.

Target Corporation (TGT) shares ended the week at $105.95, up 2.5% for the week.


Nordstrom's Earnings Disappoint

Nordstrom, Inc. (JWN) reported quarterly earnings on Tuesday, March 3. The company reported revenue and earnings that fell short of analysts' estimates, causing shares to tumble more than 10% following the report's release.

Nordstrom announced revenue of $4.54 billion for the first quarter. This is up from revenue of $4.48 billion reported in the same quarter last year. This fell below the $4.56 billion in revenue that analysts expected.

"Through our customer focus, inventory efficiencies and expense discipline, we drove improvement in sales trends in Full-Price and Off-Price, and we increased profitability during the second half of the year," said Erik Nordstrom, CEO of Nordstrom. "Our 2019 results reflected the accelerated roll out of our market strategy, our strength of Nordstrom Rack's execution, improved merchandise margins and realized expense savings that were 10% above our plan."

The company reported earnings of $193 million for the quarter, down from earnings of $248 million one year ago. On an adjusted earnings per share basis, Nordstrom posted earnings of $1.42 per share, falling below analysts' earnings estimates of $1.47 per share.

On Tuesday, Nordstrom announced leadership changes. Erik Nordstrom will act as sole CEO, while Pete Nordstrom will act as president and chief brand officer. The company also announced a new business segment. In January, Nordstrom announced it will sell used clothing at its new store, See You Tomorrow. Nordstrom's full-price sales increased 1% in the quarter, with off-price sales increasing 1.8%.

Nordstrom, Inc. (JWN) shares closed at $29.06, down 16.4% for the week.

The Dow started the week at 25,591 and closed at 25,865 on 3/6. The S&P 500 started the week at 2,974 and closed at 2,972. The NASDAQ started the week at 8,667 and closed at 8,576.
Treasury Yields Drop to All-Time Lows
U.S. Treasurys yields dropped to record lows as investors flocked to the safe haven of bonds due to a volatile stock market. The economic uncertainty resulting from the coronavirus, known as COVID-19, led the Federal Reserve to announce an emergency rate cut.

On Tuesday, the Federal Reserve announced a rate cut of one-half a percentage point. This is the first emergency cut since the financial crisis in December 2008. Analysts believe an additional rate cut may be forthcoming in the upcoming March meeting of the Federal Open Market Committee.

"The coronavirus poses evolving risks to economic activity," said the Federal Reserve in a statement. "In light of these risks and in support of achieving its maximum employment and price stability goals, the Federal Open Market Committee decided today to lower the target range for the federal funds rate."

The yield on the 10-year Treasury note hit a low of 0.676% on Friday, down from the week's opening yield of 1.156%. The 30-year Treasury bond yield opened Friday at 1.259% after opening the week at 1.679%.

On Friday, the U.S. Labor Department released its Employment Situation Summary for February 2020. The report indicated the economy added 273,000 nonfarm payroll jobs for February, surpassing analysts' expectation of 165,000 new jobs. The unemployment rate dipped to 3.5%, down from 3.6% in January.

"The Treasury market (yields down) is honing in on the slight rise in the unemployment rate because it is notable changes here that has a statistically significant influence on the direction of the economy," wrote Peter Boockvar, chief investment officer at Bleakley Advisory Group.

The 10-year Treasury note yield closed at 0.71% on 3/6, while the 30-year Treasury bond yield was 1.22%.
Mortgage Rates Drop to Record Lows
Freddie Mac released its latest Primary Mortgage Market Survey on Thursday, March 5. The report revealed the lowest rates in the Survey's history.

The 30-year fixed rate mortgage averaged 3.29% this week, down from 3.45% last week. Last year at this time, the 30-year fixed rate mortgage averaged 4.41%.

This week, the 15-year fixed rate mortgage averaged 2.79%, down from last week's average of 2.95%. During the same time last year, the 15-year fixed rate mortgage averaged 3.83%.

"The average 30-year fixed-rate mortgage hit a record 3.29% this week, the lowest level in its nearly 50-year history," said Sam Khater, Freddie Mac's Chief Economist. "Meanwhile, mortgage applications increased 10% last week from one year ago and show no signs of slowing down. Given these strong indicators in rates and sales, as well as recent increases in new construction, it's clear the housing market continues to be a positive force for the broader economy."

Based on national averages, the savings rate was 0.09% for the week of March 2. The one-year CD averaged 0.48%.
Published March 6, 2020
Previous Articles
Best Buy Posts Quarterly Earnings