Sunday February 28, 2021
Finances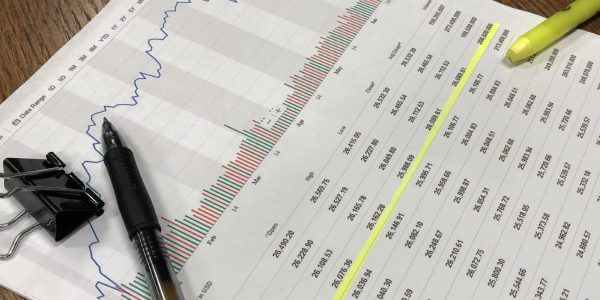 Dick's Sporting Goods Beats Expectations
Dick's Sporting Goods Inc. (DKS) released its fourth quarter and full year earnings report on Tuesday, March 10. The Pittsburgh-based sporting goods retailer's stock rose over 12% after the earnings release.

The corporation posted quarterly revenue of $2.61 billion, up from $2.49 billion at the same time last year and higher than the $2.56 billion analysts expected. Revenue for the year came in at $8.75 billion, up from $8.44 billion at this time last year.

"We are very pleased with our strong fourth quarter results. Despite the compressed holiday selling season and the challenging conditions we faced with unseasonably warm weather, we delivered a 5.3% comp sales increase, supported by increases in both average ticket and transactions, as well as growth across each of our three primary categories of hardlines, apparel and footwear," said Dick's Chairman and Chief Executive Officer Edward W. Stack. "Our outlook balances this enthusiasm with a degree of caution over the coronavirus and how it may impact our business."

For the fourth quarter, Dick's reported net income of $69.8 million, down from $102.6 million reported at this time last year. Net income for the full year came in at $298.5 million, down from $319.9 million last year.

For the quarter, Dick's saw comparable store sales increase 3%. The company is removing the hunting departments from 440 additional stores in 2020. This change is reflected in Dick's earning's projections for the year. Dick's expects earnings to range from $3.60 to $4.00 per share.

Dick's Sporting Goods Inc. (DKS) shares closed at $26.92, down 17.4% for the week.


Stitch Fix Shares Fall with Updated Guidance

Stitch Fix, Inc. (SFIX) announced second quarter earnings on Monday, March 9. The online personal styling company's shares dropped over 39% after the earnings' release, despite increased revenue.

Stitch Fix reported quarterly revenue of $451.8 million, up from $370.3 million during the same quarter last year. This missed analysts' expectations of $452.5 million.

"We are pleased to deliver another strong quarter in Q2," said Katrina Lake, Stitch Fix founder and CEO. "Net revenue was $452 million, representing 22% year-over-year growth, in line with our guidance. We grew active clients to 3.5 million, an increase of 17% year over year, and grew net revenue per active client by 8% year over year, our seventh consecutive quarter of growth and a reflection of our unique personalization capabilities."

Stitch Fix reported net quarterly earnings of $11.4 million or $0.11 per share. This is down from $12 million or $0.12 per share reported in this quarter last year.

Stock in the San Francisco-based company fell after the earnings release, which included updated guidance for the next quarter and the full year. For the third quarter, the company expects revenue from $465 to $475 million, below analysts' estimates of $506.2 million. For the full year, Stitch Fix expects net revenue of $1.81 billion to $1.84 billion, falling short of analysts' predicted $1.92 billion in revenue. Despite a 17% increase in active clients, Stitch Fix revised its guidance based on "heightened promotional activity across retail" and lower average spending per new active client.

Stitch Fix, Inc. (SFIX) shares closed at $13.26, down 36.9% for the week.


Dollar General's Earnings Beat Expectations

Dollar General Corporation (DG) reported quarterly and full year earnings on Thursday, March 12. The Tennessee-based discount chain beat earnings forecasts for the fourth quarter in a row.

The company announced net revenue of $7.16 billion for the fourth quarter, up from revenue of $6.65 billion in the same quarter last year, exceeding analysts' expectations of $7.15 billion. For the full year, net revenue came in at $27.8 billion, up from $25.6 billion at this time last year.

"We are very pleased with our fourth quarter results, capping off a strong year of performance across the Company," said Dollar General's Chief Executive Officer Todd Vasos. "Our full-year results were highlighted by double-digit diluted EPS growth, as well as our 30th consecutive year of same-store sales growth. During the fourth quarter, we delivered a healthy 3.2% increase in same-store sales, as well as strong margin performance."

Dollar General reported fourth quarter earnings of $535.4 million or $2.10 earnings per share, exceeding analysts' expectations of $2.01 per share, and up from $483.2 million or $1.84 earnings per share reported at this time last year. For the full year, the company reported earnings of $1.7 billion, up from $1.6 billion last year.

Dollar General shares have increased about 1.1% this year despite the 15.2% decline of the S&P 500. Dollar General operates 16,278 stores in 44 states. Same-store sales have increased 3.2% and the company projects same-store growth between 2.5% and 3% for fiscal 2020.

Dollar General Corporation (DG) shares ended at $145.81, down 3.3% for the week.

The Dow started the week at 24,992 and closed at 23,185 on 3/13. The S&P 500 started the week at 2,863 and closed at 2,711. The NASDAQ started the week at 7,958 and closed at 7,875.

Treasury Yields Fall to New Lows, Rise at Week's End
Treasury yields fell this week as the markets responded to the continued coronavirus concerns and an oil price war between Saudi Arabia and Russia. Yields rebounded early Friday morning as the Federal Reserve announced a plan to inject liquidity into the bond market and the White House and lawmakers discussed an economic relief package in response to the virus.

On Monday, amid fears of spreading COVID-19 and a refusal by Russia to release less oil into an already saturated market, the S&P 500 fell fast enough to trigger a safety circuit breaker that puts a 15-minute halt to trading. On Thursday, the circuit breaker was triggered again after the index fell 8% minutes after opening. The circuit breaker was put in place in 1987 after the crash known as Black Monday when the S&P fell 20% in one day; before this week it had only been triggered once, in 1997.

"We're starting to get a sense of how dire the [coronavirus] impact on the economy is going to be," said chief investment strategist at Charles Schwab, Liz Ann Sonders. "Each day the news doesn't get better, it gets worse. It now has hit Main Street to a more significant degree."

On Friday, yields rose as the New York Federal Reserve announced it will purchase $25 billion in Treasurys across the yield spectrum before market close today. Another $35 billion in purchases has already been promised.

Also contributing to the rise in yields is the hope that Treasury Secretary Steve Mnuchin and Speaker Nancy Pelosi will soon close a deal for an aid package. Congress earmarked $8.3 billion in emergency funding last week for immediate health concerns. This second package will address economic relief as business, travel and consumer spending slows.

"We have, or are near, to an agreement, subject to the exchange of paper. We hope to have an announcement tomorrow," said Pelosi to reporters Thursday night.

The 10-year Treasury note yield closed at 0.95% on 03/13, while the 30-year Treasury bond yield was 1.55%.

Mortgage Rates Remain Low
Freddie Mac released its latest Primary Mortgage Market Survey on Thursday, March 12. The report revealed an increase in mortgage rates.

The 30-year fixed rate mortgage rate averaged 3.36%, up from 3.29% last week. At this time last year, the 30-year fixed rate mortgage averaged 4.31%.

This week, the 15-year fixed rate mortgage averaged 2.77%, down from 2.79% last week. Last year at this time, the 15-year fixed rate mortgage averaged 3.76%.

"As refinance applications continue to surge and lenders work to manage capacity, the 30-year fixed-rate mortgage ticked up from last week's all-time low," said Freddie Mac's Chief Economist Sam Khater. "Mortgage rates remain at extraordinary levels and many homeowners are smartly weighing their options to refinance, potentially saving themselves money."

Based on published national averages, the national average savings rate was 0.09% on 3/13. The one-year CD finished at 0.46%.
Published March 13, 2020
Previous Articles
Hewlett Packard Enterprise Reports Earnings
Best Buy Posts Quarterly Earnings