Karen Chaudiere ('81)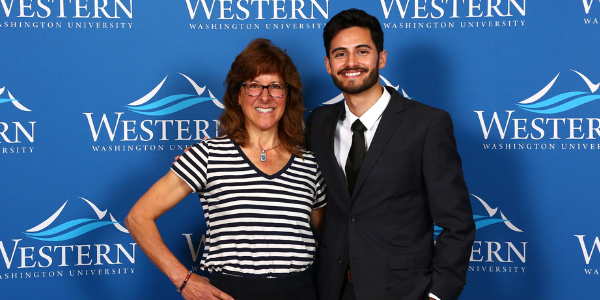 Karen Chaudiere ('81) worked exceptionally hard for a good education, starting in high school. She took a loan from a family friend to pay for private school and worked at Winchell's Donut Shop and cleaning real estate agents' offices to pay him back. She worked every summer and holiday during college to pay for Western.
After a successful career in everything from telecommunications to pharmaceuticals, Chaudiere decided to support other under-resourced students so they could really engage in campus life, stay in school, and not have to work so many jobs.
The Karen Chaudiere Scholarship for Manufacturing and Supply Chain Management was awarded this past academic year to Malku Cruz ('23). She was delighted that the recipient of her scholarship was also an incredibly hard worker-Cruz's goal was to graduate from WWU debt-free.
And in June 2023, he did.
"Every penny means so much, and Karen's support came as such a relief," Cruz says. "I graduated with zero debt, which means everything to me and my family. The generosity of people like her, who don't know the students but donate anyway, amazes me."
See Malku Cruz's speech at the 2023 scholarship luncheon in Seattle here .
Chaudiere is also generous with her time. She has served on the Manufacturing and Supply Chain Management advisory board for 15 years.
"Karen is phenomenal," says Manufacturing and Supply Chain Management professor Peter Haug. "She has dedicated so much financial interest, time and energy to our students, and we're so grateful."
The experience of meeting the recipients of the scholarship she established has motivated her to include Western in her estate plans. She has made arrangements to permanently endow her Manufacturing and Supply Chain Management scholarship with a percentage of her estate, further benefiting Western students.
"My support is an investment in the future," she says. "Seeing these students succeed gives me hope."
Let us help you with your gift plans