Setting Students up for Success: The James and Kathleen Edris Scholarship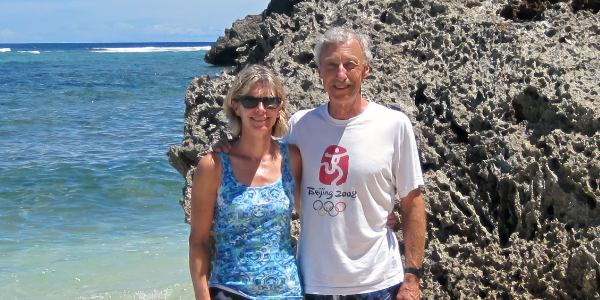 James Edris's journey at Western Washington University began at Fairhaven College in 1967 when "everyone was in tents and sleeping bags in Edens." His sister, Kathleen (not to be confused with his wife Kathleen) initially attended Pacific Lutheran University before transferring to Western. She enjoyed her Western experience so much that she convinced James to also attend Western.
Edris eventually moved from Fairhaven into the Anthropology Department in the College of Humanities and Social Sciences, enjoying the more structured curriculum there. Although he loved anthropology, his career took a different path. He traveled after college and visited his dad in the Fiji Islands.
After Western, James began taking some night classes at the University of Washington. It was there he met his wife Kathleen, who is an avid runner and was a track star at UW.
His UW classes were taught by a PhD student who had moved to Seattle from Texas.
"He was motivating and brilliant. We ended up sharing a house and, later, he was best man at my wedding."
Edris continued at the UW and got his MBA. After earning his MBA, he worked for a family who owned a department store–Prager's on 4 th and Union in Seattle–and from there he went into commercial property investment and management. Meanwhile, his sister Kathleen became a bookkeeper for a flight school at Boeing and went on to own Designer Furniture Galleries in Seattle.
In 2020, his sister Kathleen died, and James and Kathy decided to begin making their estate plans.
"We made sure we were going to have some fun," he said. "And we wanted to fund some things now while we're alive and able to enjoy seeing all the impacts."
The Edrises established two scholarships: The Edris Family Education Scholarship for Woodring, a $10,000 annual scholarship for Woodring students and the Edris President's Success Scholarship, a $10,000 scholarship for a student with a demonstrated commitment to creating a more diverse and inclusive student population.
"The cost of education shouldn't be that much of a hurdle for people who are motivated and bright," said Jim. In addition to their annual scholarships, Jim and Kathy have made a commitment to endow both scholarships with generous gifts through their estate.
A recipient of the James and Kathleen Edris Scholarship wrote in a thank-you letter, "Your scholarship did more than give me money. It gave me the things I value most: knowledge, experiences, time, and growth. You've truly set me up for success, I feel like I've hit the ground running, and I never want to stop."
Let us help you with your gift plans